I thought of stringing together  posters this time into a story. So here it goes:
1. Read poetry at India Art Festival, IAF conversations, Nehru Centre, Dec 2015.
2. Facilitated a poetry workshop at the American Library, Dec 2015.
3. This is the poster for Neesah magazine. Do submit to it if you have LGBT-based fiction, poetry, book reviews, book-related writeups. We are accepting of reprints.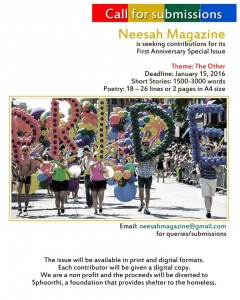 4. The first solo workshop that I conducted on poetry: free verse and haibun, at Lady Sriram college on a misty wintry morning in Delhi. It was fulfilling. Almost dream-like.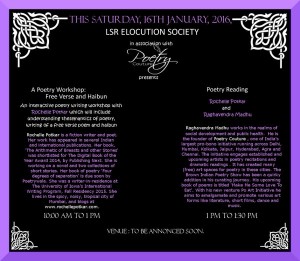 5. Lit-O-Fest
6. Celebrating Black History Month with a poetry competition.
It was wonderful judging 63 promising poems.