You are invited to the book launch of my first book of poetry, 'Four Degrees of Separation' on 1st April, 7 pm, at Cuckoo Club.
Here's the FB event page: https://www.facebook.com/events/368884149902618/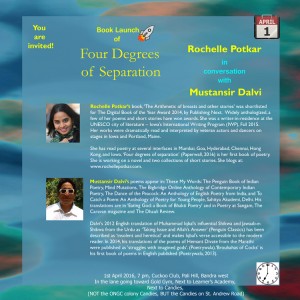 For the Bombay launch of her first book of poetry 'Four Degrees of Separation' Rochelle invites you on 1st April 2016 at 7 pm to the Cuckoo Club, Bandra west. (Full address at the end of this post).
Rochelle Potkar
in conversation with
Mustansir Dalvi
*
Rochelle Potkar's book, 'The Arithmetic of breasts and other stories' was shortlisted for The Digital Book of the Year Award 2014, by Publishing Next. Widely anthologized, a few of her poems and short stories have won awards. She was a writer-in-residence at the UNESCO city of literature – Iowa's International Writing Program (IWP), Fall 2015. Her works were dramatically read and interpreted by veteran actors and dancers on stages in Iowa and Portland, Maine.
She has read poetry at several interfaces in Mumbai, Goa, Hyderabad, Chennai, Hong Kong, and Iowa. 'Four Degrees of Separation' (Paperwall, 2016) is her first book of poetry. She is working on a novel and two collections of short stories. She blogs at: www.rochellepotkar.com.
*
Mustansir Dalvi's poems appear in: These My Words: The Penguin Book of Indian Poetry, Mind Mutations, The Bigbridge Online Anthology of Contemporary Indian Poetry, The Dance of the Peacock: An Anthology of English Poetry from India, and To Catch a Poem: An Anthology of Poetry for Young People, Sahitya Akademi, Delhi. His translations are in 'Eating God: a Book of Bhakti Poetry' and in Poetry at Sangam, The Caravan magazine and The Dhauli Review.
Dalvi's 2012 English translation of Muhammad Iqbal's influential Shikwa and Jawaab-e-Shikwa from the Urdu as 'Taking Issue and Allah's Answer' (Penguin Classics) has been described as 'insolent and heretical' and makes Iqbal's verse accessible to the modern reader. In 2014, his translations of the poems of Hemant Divate from the Marathi were published as 'struggles with imagined gods'. (Poetrywala).'Brouhahas of Cocks' is his first book of poems in English published (Poetrywala, 2013).
*
Publisher of 'Four Degrees of Separation': Paperwall Media & Publishing Pvt. Ltd.
https://www.paperwall.in/books/
Venue:
Cuckoo Club, Bandra west, Pali Hill Road,
In the lane going toward Gold Gym, Next to Learner's Academy,
Next to Candies, (NOT the ONGC colony Candies,
BUT the Candies on St. Andrew Road)