Pardon my jump in timeline but these posts are getting just as non-linear as memory. This post was supposed to come before the Goa-events post. But nevermind.
Kolkata was fun too. I am now the alumna of the University of East Anglia's creative-writing course too. It was a privilege to learn so much from Amit Chaudhuri and Romesh Gunesekera, as tutors. I am reading their books and musing over their lines and premises. But, hey, I am a damn slow reader must admit that. Read one line, dream a dream, read another line, dream a dream 🙂 Anyway… I will finish these books someday.
And if I say I didn't meet interesting new writer-friends and have a fun moment, something would be rather incomplete.
Here, with Tim March and Nash Colundalur, enacting Shene Bhatt's short story: The Moustache man
*
My lovely and beautiful friend  Sufi (Sufia) organized an evening of poetry readings in the shortest instance that she knew I was in Kolkata. I am so indebted to such warm friendships. Besides Shene, I also invited the sensitive writer, Sahana Ahmed to come along. This evening was mesmerizing, as we soaked in poetry of all the poets present and listened to Somali Panda's soulful singing. If I had asked for more that evening, it would be a poem in invisible ink snow-flaking from the sky, and nothing more…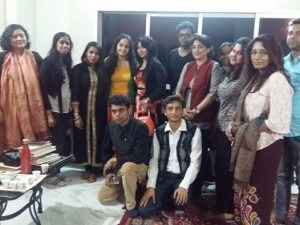 Here's a report by Rhythm Divine, poet's poetic journey: On sunday evening the renowned singer Somali Panda hosted in her house Mumbai-based writer Rochelle Potkar along with a group of poets and singers, mainly from Rhythm Divine Poets group. The event was graced by city-based poets like Sharmila Ray, Rijurekh Chakraborty, Kushal Poddar, Amit Shankar Saha, Sufia Khatoon, Aparna Singh, and Swasti Jaiswal. Many aspiring writers, who are presently in the city attending the University of East Anglia organized writers' workshop, too attended the session and shared their creations. Rochelle Potkar recited from her collection of poems titled "Four Degrees of Separation" while Sharmila Ray recited from her new book of poems "Scrawls and Scribbles". The poetry reading was interspersed with songs sung by Bonoshree Dey and, of course, Somali Panda. Rhythm Divine Poets group, who have helped bring poetry in vogue in Kolkata through various poetry events, both in public spaces as well as private houses, intends to continue their good work like this in the future.
Our event was also covered in the biswabangla news.